More people lost money waiting for corrections and anticipating corrections than the actual corrections.

-Peter Lynch
What Does A Strong Dollar Mean for the U.S. Economy?
Intuitively, it might seem that a strong dollar is good for the U.S. economy, but the effects are mixed in the context of other domestic and global pressures. Read more here.
Caring for Aging Parents
Whether the time is now or somewhere down the road, there are steps that you can take to make your life (and theirs) a little easier. Some people live their entire lives with little or no assistance from family and friends, but today Americans are living longer than ever before. It's always better to be prepared. Read more here.
Photo of the Week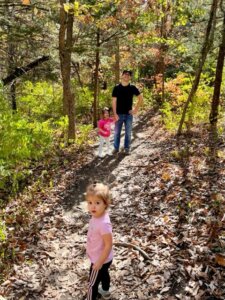 Emily's husband Tyler and their two daughters on a recent family hike on the Shawnee Mission Park trails in Lenexa, KS.
This content is provided by Windward Private Wealth Management Inc. ("Windward" or the "Firm") for informational purposes only. Investing involves the risk of loss and investors should be prepared to bear potential losses. No portion of this blog is to be construed as a solicitation to buy or sell a security or the provision of personalized investment, tax or legal advice. Certain information contained in the individual blog posts will be derived from sources that Windward believes to be reliable; however, the Firm does not guarantee the accuracy or timeliness of such information and assumes no liability for any resulting damages.
Windward is an SEC registered investment adviser. The Firm may only provide services in those states in which it is notice filed or qualifies for a corresponding exemption from such requirements. For information about Windward's registration status and business operations, please consult the Firm's Form ADV disclosure documents, the most recent versions of which are available on the SEC's Investment Adviser Public Disclosure website at www.adviserinfo.sec.gov.