Human nature being what it is, small loopholes are likely to be exploited until they become big ones, and big ones until they turn into financial disasters.

-Seth Klarman
Medicare Open Enrollment Is Here: How are costs changing for 2023?
Medicare's Open Enrollment Period – which runs from October 15 to December 7 – is your annual opportunity to switch your current Medicare health and prescription drug plans to ones that better suit your needs. 2023 Medicare premiums, deductibles, and other costs have been announced, and surprisingly, some of these costs are lower than they were last year. Read more here.
Am I Having Enough Tax Withheld?
If you fail to estimate your federal income tax withholding properly, it may cost you in a variety of ways. If you receive an income tax refund, it essentially means that you provided the IRS with an interest-free loan during the year. By comparison, if you owe taxes when you file your return, you may have to scramble for cash at tax time – and possibly owe interest and penalties to the IRS as well. The IRS provides a quick and easy way to check the accuracy of your income tax withholdings with their new new Tax Withholding Estimator tool, available on their website here.
Photo of the Week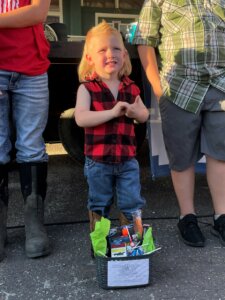 Briggs Ward, Brandy's son, participating in the 46th annual Amsterdam Jubilee mullet contest in Amsterdam, Missouri. Out of fifteen contestants, Briggs placed second!
This content is provided by Windward Private Wealth Management Inc. ("Windward" or the "Firm") for informational purposes only. Investing involves the risk of loss and investors should be prepared to bear potential losses. No portion of this blog is to be construed as a solicitation to buy or sell a security or the provision of personalized investment, tax or legal advice. Certain information contained in the individual blog posts will be derived from sources that Windward believes to be reliable; however, the Firm does not guarantee the accuracy or timeliness of such information and assumes no liability for any resulting damages.
Windward is an SEC registered investment adviser. The Firm may only provide services in those states in which it is notice filed or qualifies for a corresponding exemption from such requirements. For information about Windward's registration status and business operations, please consult the Firm's Form ADV disclosure documents, the most recent versions of which are available on the SEC's Investment Adviser Public Disclosure website at www.adviserinfo.sec.gov.