Our stay-put behavior reflects our view that the stock market serves as a relocation center at which money is moved from the active to the patient.

-Warren Buffett
How much annual income can your retirement portfolio provide?

Your retirement lifestyle will depend not only on your assets and investment choices, but also on how quickly you draw down your retirement portfolio. The annual percentage that you take out of your portfolio, whether from returns or the principal itself, is known as your withdrawal rate. Figuring out an appropriate initial withdrawal rate is a key issue in retirement planning and presents many challenges. Read more here.
529 Plans vs Other College Savings Options
529 Plans can be a great way to save for college, but they're not the only way. When you're investing for a major goal like education, it makes sense to be familiar with all your options. Read more here.
Photo of the Week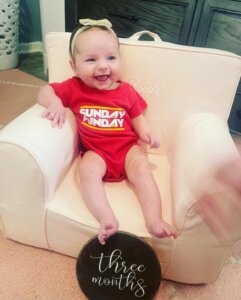 A recent photo of Caitlin Ryser's precious daughter, Heidi. She likes watching football with daddy and cheering on the Kansas City Chiefs!
This content is provided by Windward Private Wealth Management Inc. ("Windward" or the "Firm") for informational purposes only. Investing involves the risk of loss and investors should be prepared to bear potential losses. No portion of this blog is to be construed as a solicitation to buy or sell a security or the provision of personalized investment, tax or legal advice. Certain information contained in the individual blog posts will be derived from sources that Windward believes to be reliable; however, the Firm does not guarantee the accuracy or timeliness of such information and assumes no liability for any resulting damages.
Windward is an SEC registered investment adviser. The Firm may only provide services in those states in which it is notice filed or qualifies for a corresponding exemption from such requirements. For information about Windward's registration status and business operations, please consult the Firm's Form ADV disclosure documents, the most recent versions of which are available on the SEC's Investment Adviser Public Disclosure website at www.adviserinfo.sec.gov.