For last year's words belong to last year's language.
And next year's words await another voice.

-T.S. Eliot
Retirement Investors Get Another Boost from Washington
Amid the 1,650-page, $1.7 trillion omnibus spending legislation passed by Congress last week and expected to be signed by President Biden were several provisions affecting work-sponsored retirement plans and, to a lesser degree, IRAs. Dubbed the SECURE 2.0 Act of 2022 after the similarly sweeping Setting Every Community Up for Retirement Enhancement Act passed in 2019, the legislation is designed to improve the current and future state of retiree income in the United States. Read more here.
2023 Goal Planning
The start of a new year is a great time to reassess your financial goals and the steps you are taking to achieve those goals. Do you have financial goals but aren't sure how to take the first step?
As you look through this master list of financial goals, remember that we are always available to help you strategize on ways to achieve them.
Photo of the Week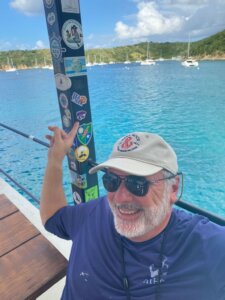 Darrell Tierney spotting a KSU Powercat on a recent sailing trip in the British Virgin Islands.
This content is provided by Windward Private Wealth Management Inc. ("Windward" or the "Firm") for informational purposes only. Investing involves the risk of loss and investors should be prepared to bear potential losses. No portion of this blog is to be construed as a solicitation to buy or sell a security or the provision of personalized investment, tax or legal advice. Certain information contained in the individual blog posts will be derived from sources that Windward believes to be reliable; however, the Firm does not guarantee the accuracy or timeliness of such information and assumes no liability for any resulting damages.
Windward is an SEC registered investment adviser. The Firm may only provide services in those states in which it is notice filed or qualifies for a corresponding exemption from such requirements. For information about Windward's registration status and business operations, please consult the Firm's Form ADV disclosure documents, the most recent versions of which are available on the SEC's Investment Adviser Public Disclosure website at www.adviserinfo.sec.gov.