All great changes are preceded by chaos.

-Deepak Chopra
What issues should you consider regarding changes made by the SECURE Act 2.0?
SECURE Act 2.0 implements several changes that may impact you. This checklist highlights the important changes that may affect your finances, identify some proactive planning points to consider, and prioritize your next steps.
Estimating Your Retirement Income Needs
You know how important it is to plan for your retirement, but where do you begin? One of your first steps should be to estimate how much income you'll need to fund your retirement. That's not as easy as it sounds, because retirement planning is not an exact science. Read more here.
The Northland Windward office is moving!
Our last day at 2101 Burlington is 1/27/2023. Our new office is being renovated and will open between 2/15-3/1/2023. Our new address will be:
851 NW 45th Street Suite 106, Kansas City, MO 64116
Income Tax Organizers and Tax Engagement Letters
Income tax organizers and engagement letters will be sent out in the next week or two. We will be notifying you when they are available. If you plan to mail in your tax documents, please use our Overland Park address:
10955 Lowell Avenue, Suite 410 Overland Park, KS 66210
Photo of the Week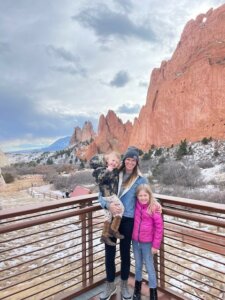 Brandy Ward with her children, Briggs and Collins, at a recent trip to Garden of the Gods in Colorado Springs, CO.
This content is provided by Windward Private Wealth Management Inc. ("Windward" or the "Firm") for informational purposes only. Investing involves the risk of loss and investors should be prepared to bear potential losses. No portion of this blog is to be construed as a solicitation to buy or sell a security or the provision of personalized investment, tax or legal advice. Certain information contained in the individual blog posts will be derived from sources that Windward believes to be reliable; however, the Firm does not guarantee the accuracy or timeliness of such information and assumes no liability for any resulting damages.
Windward is an SEC registered investment adviser. The Firm may only provide services in those states in which it is notice filed or qualifies for a corresponding exemption from such requirements. For information about Windward's registration status and business operations, please consult the Firm's Form ADV disclosure documents, the most recent versions of which are available on the SEC's Investment Adviser Public Disclosure website at www.adviserinfo.sec.gov.