When everything seems to be going against you, remember that the airplane takes off against the wind, not with it.

–Henry Ford
What to Know About Reviewing Insurance Coverage and Policies
Perhaps you…
have new health care concerns, or you are losing coverage, and need to update your health insurance plan;
have made improvements to your home and you need to revisit your homeowner's insurance coverage;
have children that are now driving and you want to be sure your children are covered by your auto policy; or
are concerned about the adequacy of your life and/or disability insurance coverage;
Whatever the case may be, it is important to review your insurance coverage and policies periodically to ensure you are adequately protected well in advance of any future needs. The terms and conditions of insurance policies can be difficult to understand. Deductibles, limits, exclusions, and endorsements can be hidden in the fine print, making it hard to determine the true extent of your protection.
To assist in reviewing your insurance coverage, we have two checklists that outline key considerations to guide your analysis:
Health & Life Insurance Considerations
Property & Casualty Insurance Considerations
While checklists can help you identify different opportunities to consider, we are always available to discuss your financial goals and to help you identify the best opportunities for you.
Photo of the Week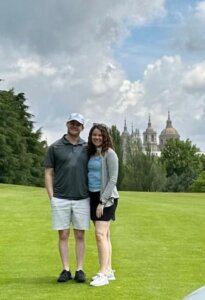 Nick and his significant other, Emily, enjoying the Real Club de Golf La Herrería on a recent visit to Madrid, Spain.
This content is provided by Windward Private Wealth Management Inc. ("Windward" or the "Firm") for informational purposes only. Investing involves the risk of loss and investors should be prepared to bear potential losses. No portion of this blog is to be construed as a solicitation to buy or sell a security or the provision of personalized investment, tax or legal advice. Certain information contained in the individual blog posts will be derived from sources that Windward believes to be reliable; however, the Firm does not guarantee the accuracy or timeliness of such information and assumes no liability for any resulting damages.
Windward is an SEC registered investment adviser. The Firm may only provide services in those states in which it is notice filed or qualifies for a corresponding exemption from such requirements. For information about Windward's registration status and business operations, please consult the Firm's Form ADV disclosure documents, the most recent versions of which are available on the SEC's Investment Adviser Public Disclosure website at www.adviserinfo.sec.gov.