Five Ways SECURE 2.0 Changes the Required Minimum Distribution Rules
The SECURE 2.0 legislation included in the $1.7 trillion appropriations bill passed late last year builds on changes established by the original Setting Every Community Up for Retirement Enhancement Act (SECURE 1.0) enacted in 2019. SECURE 2.0 includes significant changes to the rules that apply to required minimum distributions from IRAs and employer retirement plans.
What Important Issues Should You Consider Regarding Changes Made by the SECURE Act 2.0?
SECURE Act 2.0 implements several changes that affect many different areas of financial planning. This checklist highlights important changes that may affect you, including RMD changes, employer contributions updates, new 529-to-Roth transfer, and more.
The Northland Windward office is moving!
Our new Kansas City North office is being renovated and will open by 3/1/2023. Our address will be:
851 NW 45th St., Suite 106
Kansas City, MO 64116
Photo of the Week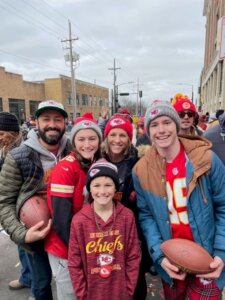 The Osborne family pictured at the Chiefs Superbowl LVII Victory Parade on Wednesday. Eli's football was autographed by wide receiver Justin Watson at the parade!
This content is provided by Windward Private Wealth Management Inc. ("Windward" or the "Firm") for informational purposes only. Investing involves the risk of loss and investors should be prepared to bear potential losses. No portion of this blog is to be construed as a solicitation to buy or sell a security or the provision of personalized investment, tax or legal advice. Certain information contained in the individual blog posts will be derived from sources that Windward believes to be reliable; however, the Firm does not guarantee the accuracy or timeliness of such information and assumes no liability for any resulting damages.
Windward is an SEC registered investment adviser. The Firm may only provide services in those states in which it is notice filed or qualifies for a corresponding exemption from such requirements. For information about Windward's registration status and business operations, please consult the Firm's Form ADV disclosure documents, the most recent versions of which are available on the SEC's Investment Adviser Public Disclosure website at www.adviserinfo.sec.gov.