Two essentials for successful retirement are sufficient funds to live on and sufficient things to live for. – Ernie Zelinski
New Cancellation for Federal Student Loans and Delayed Repayment to 2023
Just a few days before federal student loan repayment was set to resume, President Biden announced a plan for additional student loan debt relief. Federal student loan repayment was originally halted in March 2020. The new plan extends the payment moratorium through the end of the year, offers partial debt cancellation, and includes proposed updates to the Public Service Loan Forgiveness program and a new income-based repayment plan. Read more here.
Travel Insurance
If you get sick, lose your suitcase, or have to cut your trip short, will any of your existing insurance policies cover your expenses or reimburse you for your losses? If not, you might want to purchase travel insurance, which is available from insurance companies, travel agents, tour operators, and cruise lines. Read more here.
Photo of the Week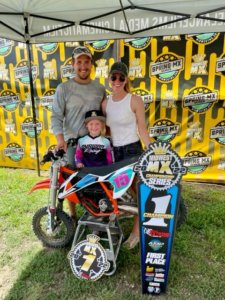 Collins Ward (pictured with her mom, Brandy, and dad, Matty) taking first place in the Midwest MX Championship Series 50cc beginner class in Drexel, MO this summer. Collins loves hitting the jumps on her KTM SX-E 5 electric dirt bike and making new racing friends.
This content is provided by Windward Private Wealth Management Inc. ("Windward" or the "Firm") for informational purposes only. Investing involves the risk of loss and investors should be prepared to bear potential losses. No portion of this blog is to be construed as a solicitation to buy or sell a security or the provision of personalized investment, tax or legal advice. Certain information contained in the individual blog posts will be derived from sources that Windward believes to be reliable; however, the Firm does not guarantee the accuracy or timeliness of such information and assumes no liability for any resulting damages.
Windward is an SEC registered investment adviser. The Firm may only provide services in those states in which it is notice filed or qualifies for a corresponding exemption from such requirements. For information about Windward's registration status and business operations, please consult the Firm's Form ADV disclosure documents, the most recent versions of which are available on the SEC's Investment Adviser Public Disclosure website at www.adviserinfo.sec.gov.