I am not afraid of storms, for I am learning how to sail my ship. – Louisa May Alcott
What To Know About Reviewing Your Employee Benefits
Perhaps you want to…
want to make sure your employer-sponsored retirement plan is optimized for your risk tolerance, financial goals, and diversification needs;
are curious about the effects of adding your spouse or dependents to your employer-sponsored medical insurance;
need to review your employer-sponsored disability insurance to ensure you've funded your emergency reserves sufficiently to cover your elimination period;
want to know more about utilizing your employer-provided HSA or FSA benefits.
Whatever the case may be, it is important to review your employer-provided benefits periodically. We can offer insight that empowers you to be confident in the decisions you make about your benefits. Here is a comprehensive list of fundamental considerations to guide your employer-provided benefits review.

Other Considerations as an Employee
As you review your employer-provided benefits, questions may come up. We've highlighted some of the most frequent questions we hear from our clients. Each question has an associated checklist that highlights key considerations.
While checklists can help you identify different opportunities to consider, we are always available to discuss your financial goals and to help you identify what the best opportunities are for you.
Photo of the Month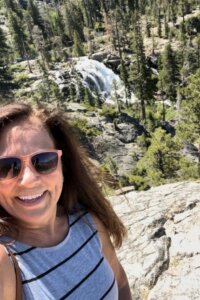 Kathy Washburn at Emerald Bay State Park in Lake Tahoe. Kathy and her family recently celebrated her granddaughter's high school graduation and 18th birthday, vacationing in the gorgeous Lake Tahoe area.
Have a referral? Our team is grateful for all the client referrals to our growing firm over the years. Thank you! If you have a referral, send an introduction to your Windward team or via the "Contact Us" button at www.windwardfp.com.
This content is provided by Windward Private Wealth Management Inc. ("Windward" or the "Firm") for informational purposes only. Investing involves the risk of loss and investors should be prepared to bear potential losses. No portion of this blog is to be construed as a solicitation to buy or sell a security or the provision of personalized investment, tax or legal advice. Certain information contained in the individual blog posts will be derived from sources that Windward believes to be reliable; however, the Firm does not guarantee the accuracy or timeliness of such information and assumes no liability for any resulting damages.
Windward is an SEC registered investment adviser. The Firm may only provide services in those states in which it is notice filed or qualifies for a corresponding exemption from such requirements. For information about Windward's registration status and business operations, please consult the Firm's Form ADV disclosure documents, the most recent versions of which are available on the SEC's Investment Adviser Public Disclosure website at www.adviserinfo.sec.gov.